On December 15th, 2005 ASIAN4YOU closed its doors to new members. In January the marvelous site full of beautiful high quality images of some of the most glamorous women of Asia will be history. Da Ole Guy, Turk and ALOTI don't want all the surfers that have enjoyed the wonders of Asian4You to go away disappointed. We will leave our existing galleries online for all to enjoy, but also provide alternate sites where you may find many of the familiar faces seen on ASIAN4YOU.


First choice on our list to keep your thirst for gorgeous ladies from South East Asia to satisfy your longings is Thai Cuties...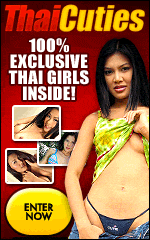 We all loved Nancy Ho, Cho Hye Eun and Cherry Chen. Those plus a few other popular models grace the pages of Thai Cuties. Your desire to continue to enjoy their graceful forms is not over! Thai Cuties has many great photo set of beautiful Thai models for you to enjoy. Add on their collection of quality videos and you are in heaven looking for your favorite Asian treat.
Da Ole Guy reported back that satisfaction is guaranteed and a woody part of the deal at Thai Cuties. He liked the prices too. Membership is only $24.95 and rebills at $21.95. Then the kicker is you also get membership to another other great ClockworkCash site, Exxxtreme Asia! Their images are high resolution and 1200 pixels in size. The combination ClockworkCash offers is definitely a deal! Webmasters need to consider them for sure.
You can read my review of ThaiCuties.Com here...


Next on the list of picks is 88Square. Their style is close to the same as you were used to on our former old friend, ASIAN4YOU. 88Square also has many of your old favorites in beautiful Asian models. Amara Taroon, Petchara, Vivian, Sandra Mar and more. They shoot all their stuff on location in South East Asia and are exclusive on content. Da Ole Guy gives this site a thumbs up for quaility.
In addition to many hi-res images, 88Square offers plenty of movies, some full length. Oh lest we forget, the infamous Natt Chanapa movie can be found on 88Square. Members can enjoy fast downloads of up to 3 gig a day. Better buy some CD folks for this site. Membership is $29.99 a month and billed through NATS.